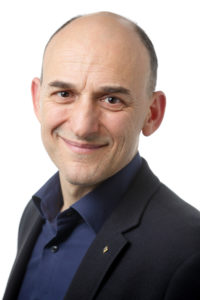 Stefano Stramigioli received the M.Sc. with honors (cum laude) in 1992 and the Ph.D with honors (cum laude) in 1998. Between the two degrees he has been working as a researcher at the University of Twente, has started his enterprise and received the Dutch Institute of System and Control certificate. Since 1998 he has been faculty member first as assistant, associate and currently full professor in Advanced Robotics. He is currently serving as the Vice President for Research of euRobotics, the private part of the PPP cooperation with the European Commission known as SPARC, the biggest robotic civil program worldwide. He is an IEEE Fellow and has been an IEEE RAS officer for many years.
He is currently leading a growing group of more than 50 people called RAM, at the University of Twente . He has been Editor in chief of the IEEE Robotics and Automation Magazine, which he brought from the seventh to the first place in the ranking of the Impact Factor among all journals on Robotics. He has furthermore been Editor in Chief of the IEEE ITSC Newsletter and guest editor for others. He is member of the Editorial Board of the Springer Journal of Intelligent Service Robotics.
He has been an AdCom member of the IEEE Robotics and Automation Society, he has been the founder and chair of the Electronic Products and Services of the IEEE Robotics and Automation Society and he has been serving as Vice President for Membership of the same society for two consecutive terms. He is involved in different projects related to Control and Robotics for medical, inspection and maintenance and other applications.
Nationally, he has been a member of the Management team of the graduate school DISC, he was the the chair of RoboNED, the national platform coordinating all academic, industrial and governmental institutions on Robotics and responsible for producing a Strategic Research Agenda for Robotics for the Netherlands and he was one of the initiator of the LEO robotics center, first robotics center in the Netherlands (2008). He was the UT representative for the formation of the 3TU CoE on Intelligent Mechatronic Systems and the 3TU Master on System and Control. He served as the UT representative of the Management Team of the Mechatronica Valley Twente. He was member of the program board of the STW national research program on Autonomous Sensors Systems.
To name some recognitions, he has been the 2000 recipient of the education award of Electrical Engineering at the TU Delft, 2009 recipient of the IEEE-RAS distinguish service award, 2016 euRobotics Tech-Transfer Award, 2016 Hemlyn Best Design Award for Surgical Robots. He is a member of the 3TU Center of Excellence on Intelligent Mechatronics Systems.
He has been invited many times as speaker at international schools, workshops and conferences for lecturing or plenary speeches, and he has numerous national and international cooperations. He has been teaching Modeling, Control and Robotics for under and post-graduates.